5 Ways To Build Family Togetherness Through Kayaking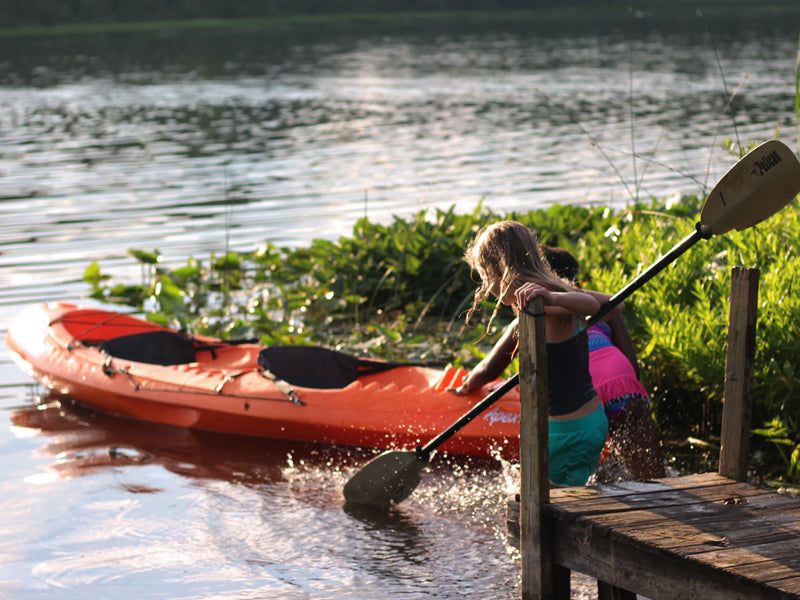 What's a simple answer to bringing everyone in your family together to create memories, get some fantastic exercise and learn new skills you'll all enjoy for decades to come?
Yep. Recreational kayaking – the "trifecta" of family fun!
Here's how you and your crew can quickly become a part of it all. No drama.
Priceless Memories, Stress-Free Moments in Nature
As a parent, imagine watching your kids experience the thrill of being close to nature while relaxing in the fresh air and sunshine, paddling at their own pace and laughing together.
(Ok, "laughing together" might be a stretch, but miracles do happen…!)
Maybe they'll even tune in to that peaceful feeling of calm that can be so elusive in our stressful daily routines.
No matter what, they're sure to have something new and cool to talk about with their friends.
First, a good age for kids to start exploring kayaking is about seven years old and always with adult supervision. Please do not bring or allow infants or toddlers into a kayak at any time.
Like any sport, kayaking is not without risk. Safety is the first priority all the time, on the water and off.
Low-Budget, High Reward
Next, generally speaking, equipping a child to get out on the water in a kayak safely will run you a few hundred dollars or much less, including sunscreen (smile).
If you can score a good used kayak for your little munchkin, that figure can drop substantially.
Third: The basic gear for a one-person set up will include, at a minimum, a:
✔️ Sit-on-top style youth kayak. Most of these are designed for easy exit.
✔️ Sturdy paddle – 50 or 60" will probably be a good length for your child, but do consult the dealer as the ideal length will be based on your child's height.
✔️ A top quality personal flotation device (PFD) that fits your child well, provides head support and buoyancy, and is rated as Type III by the U.S. Coast Guard. Go for the best quality you can afford here and teach your child to wear a PFD during every kayak outing.
✔️ Decent quality pair of water shoes.
✔️ Water bottle.
Group Planning Input, Positive Experience for All
Next, plan a short (1-2 hours) kayaking trip the first few times you go out with your family. Ask each one if they have ideas on where they'd like to paddle, talk over the input and encourage everyone to imagine what they might see and feel during the trip.
Plan to stay close to the shore.
The night before your trip, try to spend some time together reviewing the route you've all decided on.
Talk over any questions people have.
Consider looking up a few paddling technique tips on YouTube.
The goal here will be for everyone to understand what to expect from the upcoming kayaking experience and to become even more excited about going together.
Finally, get a good night's sleep.
Hit the water refreshed and energetic.
And remember….have a great time!
You've worked hard to get to where you are with your family. Make every moment count now.
You may even want to start keeping a group journal.
After each kayaking adventure together, everyone will record an entry that lists or illustrates their memories of the day.
Even after just a few trips, you'll have a treasured collection of the dreams your children had while kayaking as a family.
What could be more valuable than that?
Spread The Word & Pin It 😊
Leave a comment
Comments will be approved before showing up.