How To Properly Anchor A Kayak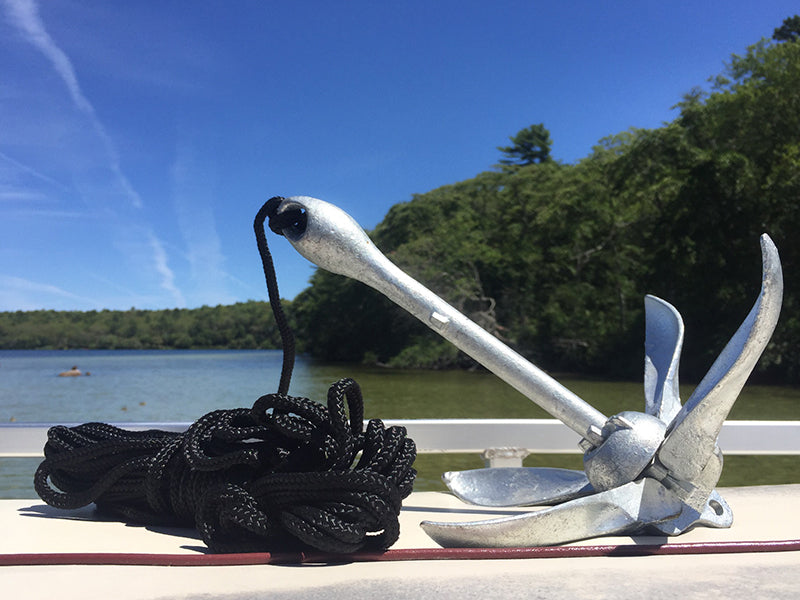 While out on your kayak, you might want to stop and take a few pictures, break out your fishing line to see what you can catch, or even meditate while listening to nature's music. In any case, you'll want a kayak anchor to keep you securely in place. Kayak anchors are an extremely portable, lightweight, and useful tool for any kayak enthusiast to have.
There are many different sizes and styles available, so let's take a look:
Anchor Pole
The first is a simple anchor pole. An anchor pole is a 6-8 foot long lightweight pole that's used in shallow water situations. The pole can be used by either inserting it through a scupper hole in your kayak and pushing it down into the sand or mud below, or by pushing the pole into the mud or sand a few feet away from your kayak and using a rope to connect it to your kayak.
We recommend YakStick Floating Stake-Out Stick by YakGear and the YakAttack ParkNPole Stakeout Pole
Drift Anchor
A drift anchor, also known as a drift sock, is a parachute looking type of anchor that attaches to your kayak and slowly drifts behind you. Typically used by kayak fishermen, a drift sock won't hold you in a still position, but it will slow your speed in breezy conditions and allow you to fish a broader area without floating away
We recommend the Mythik Lures Drift Master Drift Sock and Anchor Harness
Folding Anchor
A folding anchor, also known as a grapnel anchor, has four flukes that fold open when being used and fold closed when you're done. These anchors are small in size, weigh between 2-4 pounds and come with a bag for easy kayak storage. These anchors rely on a longer rope and a horizontal drag along the bottom surface. This is what allows the flukes to dig in and anchor themselves. Often times boaters will add 3-4 feet of chain where the rope meets the anchor, to help keep the anchor in more of a horizontal dragging position.
The best part of having a folding anchor is it can also use it for your jet ski, canoe, SUP paddleboard or any other type of small boat
We recommend the BEST Marine & Outdoors 3.5LB Folding Kayak Anchor.
Attaching The Anchor To Your Kayak
The first thing you'll need to do is decide which way you're going to cast your anchor. We recommend casting your anchor from either the bow or stern of your kayak, but never the side. When casted over the side, your kayak is at higher risk of flipping over with strong winds or currents.
For drift anchors and folding anchors, there's a few different ways to connect them to your boat, it all depends on what type of kayaker you are and how you'll be using it.
The simplest way is to tie (or clip) the anchor rope to your kayak handle or to a kayak boat cleat. This is perfect for recreational kayakers who only anchor every once in a great while or for short periods of time. 
For kayak fishermen or recreational kayakers who'll be anchoring often, you may want to invest in an anchor trolley. Anchor trolleys allow you to switch which end of your kayak the anchor is cast from without taking it out of the water and recasting. You'll essentially have a pulley along the side of your kayak, which makes switching the anchor from front to back a lot easier.
We recommend Yak-Gear Deluxe Anchor Trolley Kit and the YakAttack Kayak LeverLock Deluxe Anchor Trolley.
Hopefully you have a better understanding of how to properly anchor your kayak, so get out there and start paddling!
 Spread The Word & Pin It 😊
Disclosure: BEST Marine and Outdoors is a participant in the Amazon Services LLC Associates Program, an affiliate advertising program designed to provide a means for sites to earn advertising fees by advertising and linking to Amazon.com. This means if you click on the links above and purchase an item, we will receive an affiliate commission at no extra cost to you.
Leave a comment
Comments will be approved before showing up.