Pro Tip – How to Maximize Your Kayaking Experience Every Time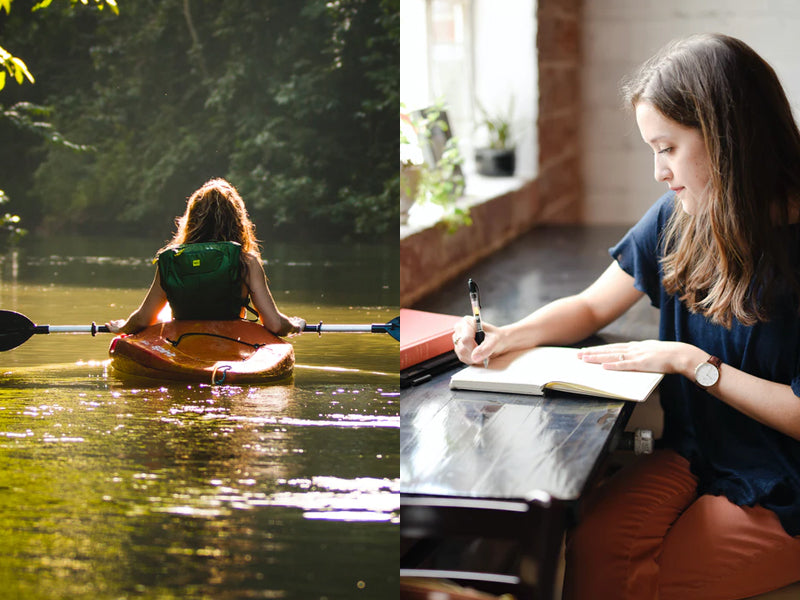 Psst! Want to quickly change your life for the better with one simple habit and max out of each adventure you have on the water?
Here's a creative tip: Keep a Kayaking Trip Journal.
Electronic or paper, doesn't matter. Nothing fancy.
Here's what you do:
Designate a paper notebook, or create a Word file on your computer, and give it a name that you like. I've titled mine, "Kayaking Reflections."
After each paddling outing, as soon as you have five or 10 minutes, jot down an entry. Don't think too hard about what you write. Just let it flow naturally and see what lands on the page. Then close out the entry and go on with your day.
The mere act of bringing a few details of the outing back to mind will reinforce them in your memory.
Your recall of special moments on the water will be more rapid and clear when you think about them again far into the future.
For example, an entry could look something like this:
Dear Paddling Diary….It's really true what they say about kayaking! The kids, Jack and I paddled together for the first time today and…Wow! What a blast! We all saw a snapping turtle and a few ducks, Jack spotted a hawk and I felt an amazing sense of calmness and joy the entire time.
We found a sandy spot on the shore and pulled up there to have snacks and watch the clouds.
Kaylee said she saw a princess in the sky! So sweet.
Jason managed to dump his boat just as we were all coming back onto shore at the end of the trip.
But the water was warm and super shallow and Jack was right there to help.
All is well!
Everyone had an adventure story to share in the car on the way home.
The kids are excited to get back out there next weekend. We'll probably pack lunches and head up north to the lake area on Saturday.
What a great idea it was to get into this! Can't wait to do it again!
As you can see, the journal entry "recipe" goes like this:
✔️ Note who you were paddling with
✔️ Describe a few experiences you and the others in your group had
✔️ Note some things that you observed, and
✔️ How you felt while paddling.
And that's it! With just the first few entries you'll already be creating a powerful tool for enhanced mental health, much better memory recall and more.
Years, months, or even days later, when you read back through the entries, you might be surprised and delighted to discover what your sub-conscious mind "saw" while you were absorbed in the kayaking experience.
Who knew that changing your life could be that easy?
Spread The Word & Pin It 😊
Leave a comment
Comments will be approved before showing up.