Top 5 Mid-Atlantic Kayaking Spots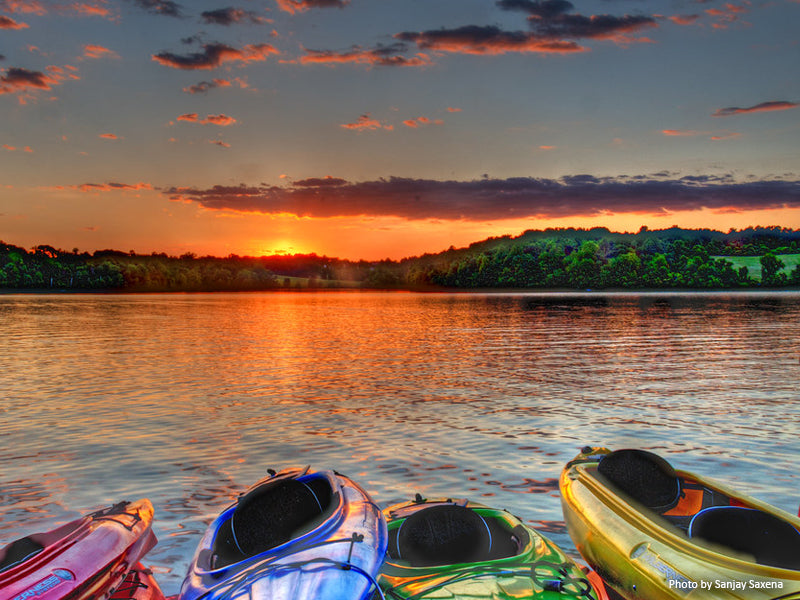 Wild ponies galloping on the beach, spectacular sunrises, sparkling ocean coastline, amazing food…When it comes to being outdoors and enjoying life, the mid-Atlantic region has it all!
Centered between the more tropical southeastern states and the cooler, more varied seasons of the north, this area offers dozens of excellent paddling sites for all skill levels. The exact definition of the "mid-Atlantic region" differs depending on a few factors, but the region usually includes New York, New Jersey, Pennsylvania, Delaware, Maryland, Washington, D.C., Virginia and West Virginia.
With all that terrain, the paddling options are nearly endless.
My family and I have done some exploring in the mid-Atlantic and can recommend several recreational paddling trips there that must go on your Kayaking Bucket List!
The Top Five, in no particular order:
1. Merrill Creek Reservoir
34 Merrill Creek Road
Washington, New Jersey
A 650-acre reservoir surrounded by a 290-acre environmental preserve and 2,000 acres of woods and fields, this is a paddler's dream. Tall stands of red pine, cedar-lined shore forests, wildlife and water fowl are all part of the majesty. On the water and near shore, watch for colorful hooded mergansers, king fishers, pileated woodpeckers, bald eagles, golden eagles (in the fall), white-tailed deer, muskrat, hawks and herons. Launch from the boat ramp (open from sunrise to sunset year-round) on the east side of the reservoir. The Reservoir is the site of extensive and successful bald eagle conservation and tracking efforts.
2. Plumb Beach
Between exits 9 and 11 off the east-bound lane of Belt Parkway
Brooklyn, New York
Escape the urban hustle and find inner peace along the inviting stretch of shoreline known as Brooklyn's "best-kept secret for kayakers." A super cool tidal lagoon, dune system and woodland thickets grace the area near the kayak launch, located on Rockaway inlet. On a map, look for the entrance to Gerritsen Creek adjacent to the Belt Parkway. Plumb Beach is an important habitat for horseshoe crabs, which "frolic" on the sands in large numbers during May and June. In the early 1900's Plumb Island gained a reputation for being a haven for "scallywags" and drunken sailors." Things have changed quite a bit since then; this spot makes for a lovely day trip for any paddler today. As of this writing, Plumb Beach is open daily from 6 a.m. to 9 p.m. ET.
3. Marsh Creek State Park
675 Park Road
Downingtown, Pennsylvania
Looking for the perfect spot to rent a kayak (or bring your own), grab a hot dog and soda, paddle around a gorgeous 535-acre man-made pond and soak in the sunshine – all in one spot? Then this place is for you! Plenty of parking, an easily accessible launch area, peace and quiet and wide, blue Pennsylvania sky are just a few of the reasons kayakers flock to Marsh Creek State Park. Abundant birdlife will keep you watching the tree lines while you float along in the clear, clean waters. Bring a blanket and a Frisbee, too, and chill out on the beach. Good times!
4. Assateague Island National Seashore
7206 National Seashore Lane
Berlin, Maryland
The "jack-pot" of kayaking spots, Assateague Island National Seashore is world famous for the herds of wild ponies that are sometimes seen galloping among the dunes. What could be cooler to watch as you paddle along the long, white sandy shoreline? Paddlers have miles of paddling opportunities through the open waters, small coves, and salt marshes of Sinepuxtent and Chincoteague Bays. While nothing prevents you from paddling in the Atlantic Ocean, most people choose to explore the bay where the waters are calm and the wildlife is more plentiful. Don't have a kayak? Rentals are available in the Maryland section of the park. Ranger-led padding trips are held in both the Maryland and the Virginia sections June through September. Paddlers must be at least 13 years old; 16 or older to join the trip without a parent. There is a charge for the kayak trips and you must sign up in advance. Reservations can be made by calling the park and paying with a credit card. Check the National Park Service's Ranger Guided Programs web page for the latest schedules and reservation details.
5. The Shenandoah River
Harpers Ferry
West Virginia
Kayaking beginners – especially kids – will love the shallow, slow moving water at the put in site of this mesmerizing river featured in countless American folk songs and stories. About an hour west of downtown Washington, D.C., Harpers Ferry is a great spot from which to launch. Float downstream a ways and the water flows a bit more quickly but remains smooth and easy as you go. Getting back to the put in is simple with the right planning. Expect to encounter some fantastic herons, birds, or even cows grazing peacefully on the distant grassy hills. Return to shore relaxed, refreshed and happy to be alive!
Naturally, these are only a few of the hundreds of amazing places in the mid-Atlantic where you, your friends and family can find inner peace in your kayaks during paddling season. Do you know of others? Feel free to post about them in our Facebook group, The Kayaking Experience. We're always on the look-out for more places to explore!
Leave a comment
Comments will be approved before showing up.