Top 5 Things You'll Need for Summer Kayaking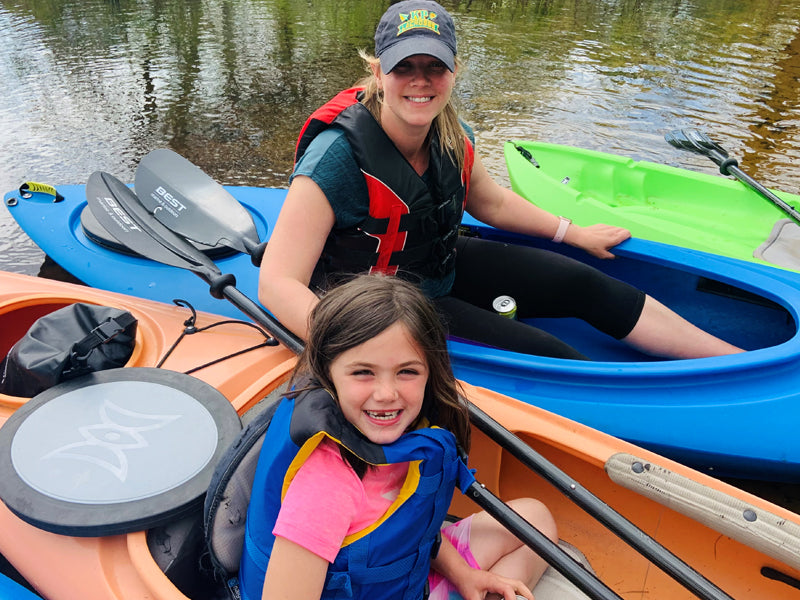 Finally! Blues skies and warmer water everywhere! This is the season we've all been waiting for. If you haven't done so yet, now is the time to plan some trips and get that 'yak on the water!
Beyond the basics of having a decent kayak, a great paddle and a reliable personal flotation device (PFD), here are 5 tips to get you on your way toward months of safe, relaxing paddling fun in the sun:
1. Summer means sunshine – usually lots of it! So….load up on sunscreen and slather it on all exposed skin before you board you boat. Bringing kids along? It's especially important to cover their arms, legs and face with lotion that contains mineral block (zinc) and that carries an SPF rating of 50 or higher. It's easy for young skin to burn quickly and cause lingering discomfort for your child.
2. When planning your trip, be sure to check the forecast the night before. Summertime can bring unexpected rain storms, gusting winds and lightening on the water. Having a good sense of what to expect of Mother Nature while you're paddling is the best way to avoid unsafe conditions. Even if the weather forecast looks tame, have a plan B in mind, just in case the situation changes while you're afloat.
3. Watch for motor craft in nearby water! Summer is party time for many folks, and that includes boaters. Kayakers know that boating and drinking don't mix. But not everyone in a speed boat or on a jet ski follows that golden rule. Paddle defensively: Stay out of boating channels (which are marked by black buoys and red buoys); listen for the sound of boats coming from behind and get out the way ASAP, and never paddle after sunset. There are no approved running lights for kayaks, which is probably just as well. Your visibility – even with bow and stern lights – is too low for motorcraft operators to safely identify you and your boat in the dark. Come ashore at day's end and enjoy happy hour there.
4. Be extra respectful of wildlife on and near the water in summertime. In early summer, many species of birds are rearing chicks in their nests, feeding them and soon teaching them to fly. The last thing our feathered friends need is someone in a boat getting too close and causing stress. Keep your distance and give all animals a wide berth when you're paddling.
5. Dress for summer kayaking success! A good pair of fast-drying shoes will protect your feet in summer, so they're a must. A light, fast-drying top is a good idea, too. Keep an extra in your dry bag so it's ready if you need it. Oh, and a wide brim cap comes in handy on those super bright days when the UV index soars.
These tips will get you out there and having fun!
If you come up with others, feel free to drop us a line in the comment section below!
Spread The Word & Pin It 😊
Disclosure: BEST Marine and Outdoors is a participant in the Amazon Services LLC Associates Program, an affiliate advertising program designed to provide a means for sites to earn advertising fees by advertising and linking to Amazon.com. This means if you click on the links above and purchase an item, we will receive an affiliate commission at no extra cost to you.
Leave a comment
Comments will be approved before showing up.