6 Tips on How to Plan a Camping and Kayaking Trip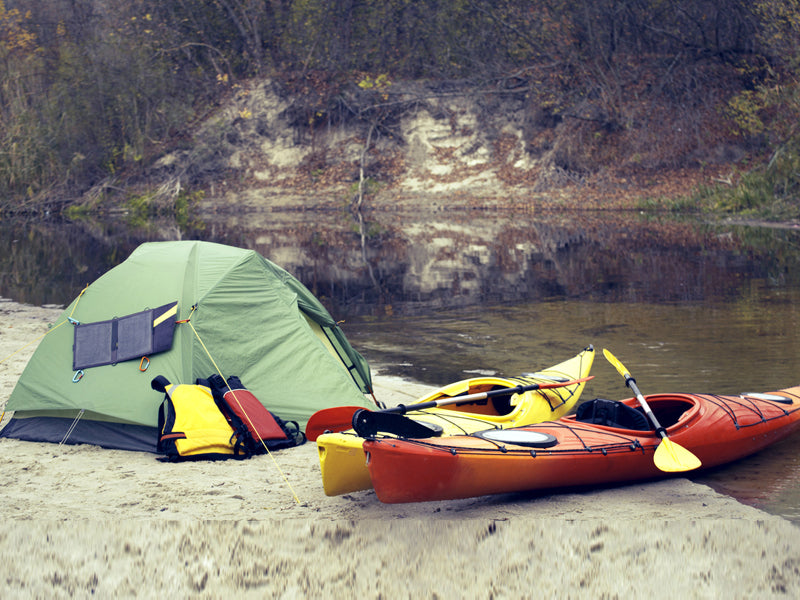 OK, so you've got your kayak, your sleeping bag, a tent and some bug spray. And you're looking to go camping along a river for a couple of days.
Now what?
Naturally, the kayaking gear needed for a camping trip is the same as what you'll need for any other adventure: PFD, water shoes, sunscreen, first aid kit, paddle float, bilge pump, water bottle, carrying case for your mobile phone, a boat sponge, sunglasses and a hat. Paddling gloves will come in handy too.
The key? Pack light and take only what you truly need. Remember that every ounce you pack is weight you'll be moving as you paddle. Plan to conserve energy where and how you can.
Right up front, commit to staying organized. A big part of that is planning a trip that's manageable for your skill level and the type of kayak you own. Keep it simple.
Keep these additional tips in mind for a safe, enjoyable adventure:
1. If you're a beginner paddler with a small recreational 'yak, plan to stay local and avoid heading out to the ocean. Lakes and slow rivers will probably be perfect. You can advance to more challenging waters as time goes on.
2. A couple of days before you depart, plan the driving route to your destination and check the weather forecast for the locale you'll be in. Note the wind forecast and water temperature predictions, in addition to the rainfall and lightning outlook. If you're planning to stay at a campground, be sure you have a reservation if one is needed, and know what time of day it opens and closes.
3. The night before you head out, check all forecasts again.
4. Heavy camping equipment, for example, cook stoves, coolers, cookware, utensils and the like, can be spread evenly across the people in your group for carrying. You may also agree to rotate some of the carrying tasks over the days you're out on the water together.
5. Plan to stay dry! There's nothing worse than spending the night in a wet sleeping bag or sopping wet tent. Use a top quality dry bag to stow gear and make smart use of the storage hatches on your kayak.
6. There are sure to be a few items you'll be using repeatedly as you paddle along. Your water bottle, for example, should be in easy reach. Snacks, too. Strap these items directly in front of your cockpit for quick access along the way.
Beyond these pro tips, here's a handy check list to refer to as you think about what to bring. Many items on this list won't be needed for every trip, but this should help you make decisions.
Above all, have fun! You'll be taking your favorite sport to the next level when you camp out with your kayaking friends.
Enjoy the experience and the memories you'll be making with every mile you log on those sparkling waves in Nature!
Leave a comment
Comments will be approved before showing up.