What to Wear Kayaking: Summer Edition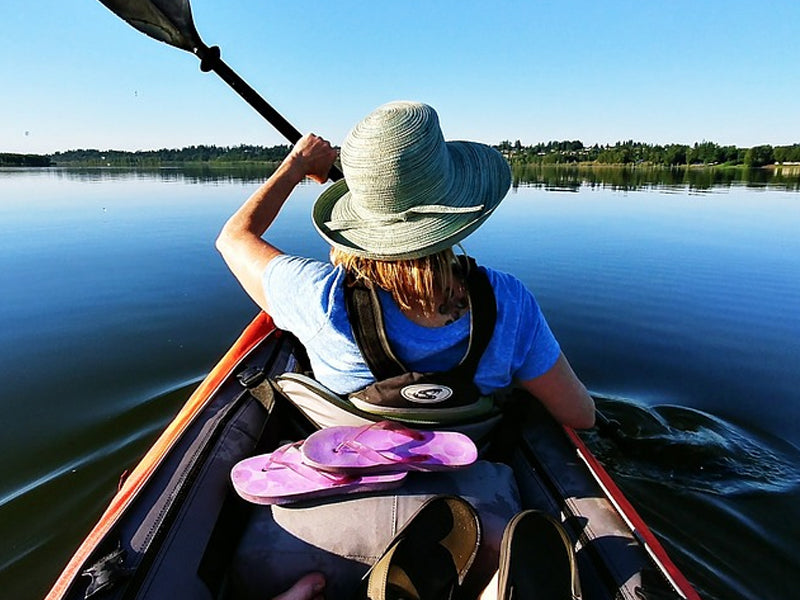 The days are hot, the water is refreshing, and your favorite beaches and lakes are calling... Summer is here! While it may seem like summer is the easiest season for planning a kayaking trip, there are some important things to keep in mind when deciding what to pack.
Sunburn, dehydration, heat exhaustion, and even heat stroke are all dangers of prolonged exposure to the summer sun, even if you plan on swimming from your boat. We've compiled the ultimate list for midyear kayaking fun, so read on to make your outings the best they can be.
Lightweight UPF Long Sleeve Shirt
It may seem counter intuitive, but wearing a long sleeve shirt on sunny days helps protect you from harmful, cancer-causing ultraviolet light while actually keeping you cool. Make sure your choice is UPF (ultraviolet protection factor) rated, which is like SPF for clothing.
A UPF rating of 50, for example, means that only 2% (1/50th) of the sun's ultraviolet radiation makes it through the fabric to your skin. Choosing a light color and wetting the shirt while on the water will also cool you off.
Lightweight UPF Pants
The same benefits as the above come from wearing protective pants. Furthermore, by wearing UPF clothing, you can avoid having to apply and reapply expensive, greasy, and non-environmentally friendly  sunscreen on most of your body.
A Hat
Using facial sunscreen is still a good idea while wearing a hat since the water reflects the sun's rays, but a hat can help protect your face, scalp, ears, and/or shoulders from ultraviolet radiation and overheating. A wide-brim sun hat or a simple baseball hat can both work well.
Sturdy shoes
Depending on your location, close-toed shoes may not be necessary. However, if you opt for sandals, be sure they're secure and aren't flimsy and loose like flip-flops. You never know when you might have an out-of-boat experience, and you'll want to protect your feet at the put-in and take-out location.
UV-protective and polarized sunglasses
Many people think of UV-protection and polarization as the same thing, but they're different. Both, however, are necessary features of active wear sunglasses.
Prolonged exposure of the eyes to the sun is a real risk to every avid water-goer. In order for your shades to guard against both UVA light (the type associated with tanning and skin cancer) and UVB light (the type responsible for sunburns), you want to ensure that they're "broad spectrum" UV-protective.
Polarization protects from glare originating from reflective surfaces like water and snow. Lenses are made polarized (which is more expensive) or are covered with a thin, polarizing filter. The latter is generally less expensive, but the covering can eventually scratch off. A bonus benefit of polarization is that it enhances your ability to see through surface glare and into water- even on choppy, windblown days.
With the above items, your folding anchor, and plenty of water and snacks, you're ready to hit the ocean, lakes, or rivers in comfort and style this summer!
Leave a comment
Comments will be approved before showing up.