12 Tips For Safer Kayaking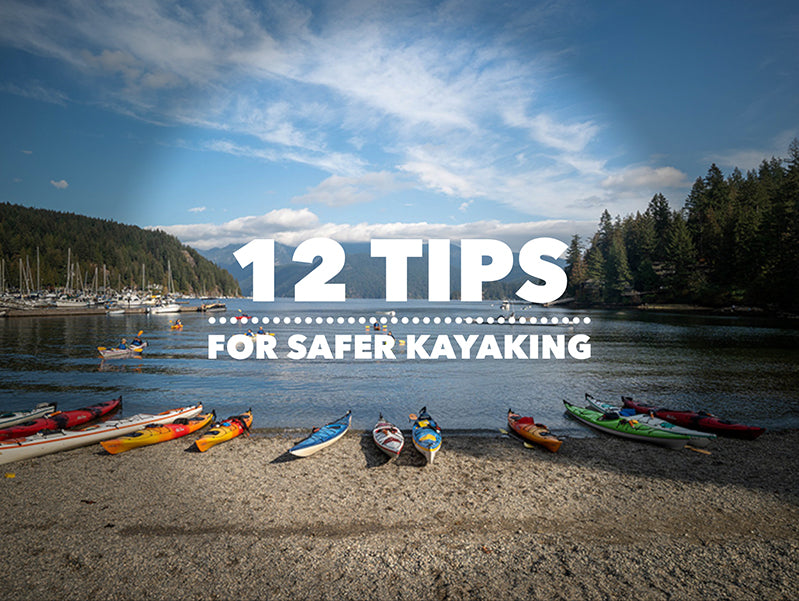 Being out on the water for a relaxing paddle in your kayak is certainly a feeling like no other. The calm that comes over us out there, the feeling of being truly connected with Nature, the escape from the daily grind…. It's all there!
But let's be honest. Like most sports, kayaking does carry some risk. With some planning and knowledge, though, the savvy paddler can reduce these risks and still have a great time on the water.
Here's 12 Safety Tips to keep in mind before your next kayak adventure:
1. Know your paddling skill level and your ability to handle the conditions you plan to paddle in. As a beginner or intermediate paddler, you can probably handle 10mph winds. Beyond that, be smart and consider staying off the water.
2. Check water temperature readings before you go. The U.S. Coast Guard advises that anything under 65°F calls for a 3mm neoprene wetsuit. It's easy to overlook how very difficult it becomes to swim and maneuver back onto your kayak when you're accidentally submerged in cold water.
The well known 1-10-1 rule is important to know if you do capsize.
One minute to regain control of your breathing
Ten minutes of meaningful movement to attempt self-rescue
One hour before you lose consciousness and drown due to hypothermia
Kids, too, should wear a wet suit and cap for safety in colder waters. Their smaller bodies need the protection to avoid water shock and drowning. Dress for immersion, not the weather, is a common expression among experienced paddlers.
3. Stow the right safety gear. You'll want to have a personal flotation device (PFD) to wear at all times, a paddle float (or two), sponge, an emergency first aid kit, visual distress signaler and working bilge pump onboard. A whistle on a lanyard around your neck is also a great idea.
4. File a float plan. Before you head out for the day, tell a friend where you plan to paddle so you can receive emergency help quickly in the unlikely event you need it later.
5. Know the "hazards of the terrain." Consult a map of the area that you plan to paddle. Identify where large rocks are lurking under the water's surface. Note where the channels and buoy markers are so you can avoid motor craft. If you plan to paddle in tidal waters, understand and plan carefully around ocean tide cycles. Paddling on a river? Watch out for "sweepers" (tree branches hanging low above the water) and debris beneath the surface.
6. Winds can and do gust – sometime heavily! Be alert out there and watch the water's surface for telltale signs – ripples and wavelets – that winds are picking up. Anchor or come ashore immediately if you start to feel uneasy about conditions and your ability to handle them. There's always tomorrow!
7. Always paddle with a buddy or two, or three! Risks rise when you paddle solo.
8. Keep close track of time and distance while you're paddling; be sure you have the strength and skill to return back to the put in.
9. Come ashore before the sun goes down. Motor craft operators can easily overlook a kayak bobbing in low light or darkness. There are no U.S. Coast Guard approved running lights for kayaks. Avoid paddling after sundown.
10. Never drink and paddle! It's a bad combo every time, not only for you, but for others you're with. Being on the water in a kayak demands your complete focus and attention at all times.
11. Stay hydrated. You'll be burning lots of calories out there. Your body will thank you at the end of the day if you drink plenty of fluids while paddling. High protein snacks are good to have onboard, too. We recommend trail mix and energy bars to restore your short-term strength.
12. Above all, use the right kayak and paddle for your skill level and comfort. Any experienced outfitter can help you choose wisely. Well made, reliable gear will make all the difference in the world for your safety and enjoyment.
We hope these tips help you with planning your next kayaking adventure!
Enjoy
Spread The Word & Pin It 😊
Disclosure: BEST Marine and Outdoors is a participant in the Amazon Services LLC Associates Program, an affiliate advertising program designed to provide a means for sites to earn advertising fees by advertising and linking to Amazon.com. This means if you click on the links above and purchase an item, we will receive an affiliate commission at no extra cost to you.
Leave a comment
Comments will be approved before showing up.