A (Very) Brief History of Kayaks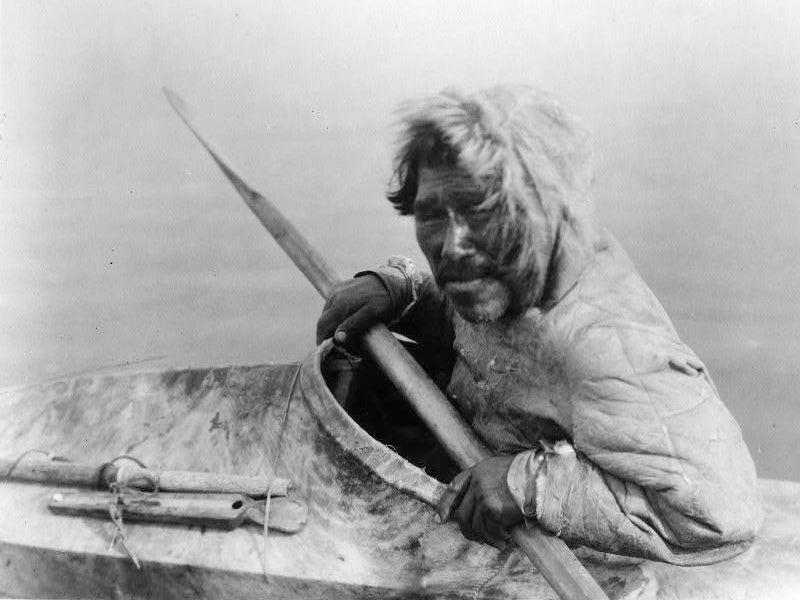 Next time you slide into a kayak to go paddling, consider this: You'll be engaging in one of the most ancient travel traditions on the planet.
Designed and built by native people about 5,000 years ago, the first kayaks were used exclusively for hunting prey on frozen seas and inlets. Across Greenland, Canada, Alaska and Siberia, paddlers would sneak up on animals in the water and, with luck and skill, take them onboard for use in feeding and clothing the community. Basic survival was a top priority at all times. For everyone involved, a well-built boat could mean the difference between life and death during difficult times of the year.
Thanks to the kayak and other valuable inventions, native people in groups such as the Inuit, Aleut, Chukchee, Unangan, Yup'ik and others have been able to thrive for many generations in some of the most punishing weather conditions known to man. Even today, some Greenland hunters use a kayak because of its smooth surface and virtually silent glide in the water.
The Kayak – Key to Daily Survival in the Far North of Old
In Inuktituk, the language of the Inuit people, the word kayak (or qajak) means "man's boat" or "hunter's boat." Lightweight and fast, each was custom-made of sea lion, walrus, reindeer, or seal skin, drift wood and whale bone, and lashed with strips of flexible caribou sinew. Builders applied thick layers of animal fat to water-proof their boats. In some cases, they inflated seal bladders and attached them for added buoyancy.
These early kayaks were easy to carry, but not too durable. As the extremely valuable keys to survival that they were, each kayak was the exclusive property of its individual owner.
In fact, according to anthropologists, old Aleutian fables teach that "a man's kayak is his living, breathing male hunting partner; the two share their lives together, even in marriage. When the hunter rose from bed in the morning to greet the sun, he also addressed his kayak, sharing the night's activities in spoken word. They were truly bound together. They would share the same grave or be lost at sea as one." Women were not allowed to touch these boats once they were completed.
Design Variations – The Umiak, Baidarka and Ulutax
One variation on the kayak is the umiak. Similar in design to the kayak, but much larger, umiaks historically measured up to 60 feet long. Entire families used them to transport possessions from place to place when conditions required it. Given the harsh conditions they faced, these groups would often travel only two miles a day through heaving ice and massive mounds of snow.  
By the early 1700's, Russians and others had come to Aleutian areas, introducing new ideas for modifying the classic kayak. They called the Aleut kayak the baidarka, Russian for "little boat," and began building it to feature three cockpits. The ulutax is similar and features two cockpits.
Since then, countless innovative kayak designs have emerged to suit the many different needs of paddlers. A technique that mixed fiberglass with resin composites was invented in the 1930s and 40s, leading to highly durable, affordable boats for recreational use. This boosted the popularity of kayaking during the 1950s. Inflatable rubberized fabric boats soon appeared in Europe. Plastic kayaks manufactured using rotational molding hit the market in 1973.
Even now, most kayaks are made from roto-molded polyethylene resins. Still others are formed with relatively light-weight, high tensile strength materials such as kevlar or carbon fiber. And the list goes on.
One thing will never change, however. From sit-on-top and folding kayaks to white water, recreational, sea kayaks, and much, much more, there will always be something for everyone looking to be a part of the ancient and enjoyable sport of paddling a kayak.
2 Responses
Leave a comment
Comments will be approved before showing up.