Benefits of a Dry Bag When Kayaking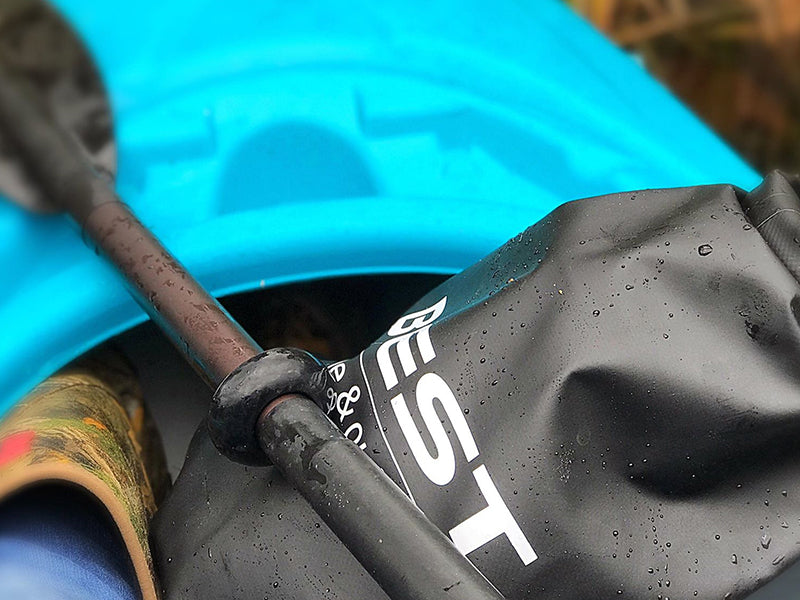 No matter where you find yourself kayaking, whether you prefer calm, leisurely paddles on scenic lakes or charging challenging rapids, you need to keep treasured items like a towel, change of clothes, your phone or keys dry.
A durable, fully waterproof, and secure dry bag is an important accessory you shouldn't pass up, so let's discuss the myriad benefits, beyond the obvious, of using a dry bag. Then we'll break down how to find the best bag for your needs.
Prevent valuables from getting wet
This first one is a no-brainer for kayaks without built-in dry storage, but many beginners mistakenly forego dry bags when their boat has dry compartments. Dry storage can be sufficient for keeping items with you and out of your way.
However, you don't want to trust it to keep items completely dry for the duration of a trip, especially one that involves some whitewater, waves, or swimming. Be sure to always use a dry bag for essentials that must not get wet, like towels, electronics, medications, extra layers, and snacks.
Protect important items from the sun
We tend to underestimate the power of the sun when it comes to both our skin and our gear. The sun's ultraviolet rays can wreak havoc on our things when out on the water, even on overcast days. A dry bag can prevent important items like electronics and safety gear from degrading in the sun over an entire season.
Keep things safe yet accessible on the water
Dry bags have various types of attachment systems to keep your stuff secure yet reachable while paddling. Look for a dry bag with one of the most reliable waterproofing closures: one that rolls down and buckles. Our BEST waterproof dry bag also comes with a strap for easy carrying, loading, and securing during trips.
Ensure flotation in case your stuff gets separated from the boat
Things can get exciting and unpredictable on the water, and a dry bag should be able to handle it. If it gets separated from your kayak somehow, you want to be assured it will float so you can retrieve it before it sinks all the way to the bottom. Pro tip: One way to improve buoyancy is to close the dry bag with a significant pocket of air inside.
Now that you're well-versed in the benefits of a dry bag, let's briefly discuss various features. Dry bags come in many different sizes and colors. There are almost as many types of closures, too! Some are more accessible while paddling, while others are just meant to keep things safe from the put-in to the take-out.
Size: You'll see dry bag size specs measured in length by width as well as volume. About 15 liters is the perfect medium size for most needs.
Color: Dry bags come in all types of colors. This is less important than other features, so choose the color that suits you.
Closure: The roll down and buckle is a great, durable closure for most bags, even on rough adventures. Other methods include a zip-close and buckle combination.
Attachment: The ideal bag will have one or more straps to help you efficiently carry and secure the bag to your vessel.
With these dry bag benefits and features in mind, never put your important items at risk on the water again!
Leave a comment
Comments will be approved before showing up.