The 7 BEST Kayaking Safety Rules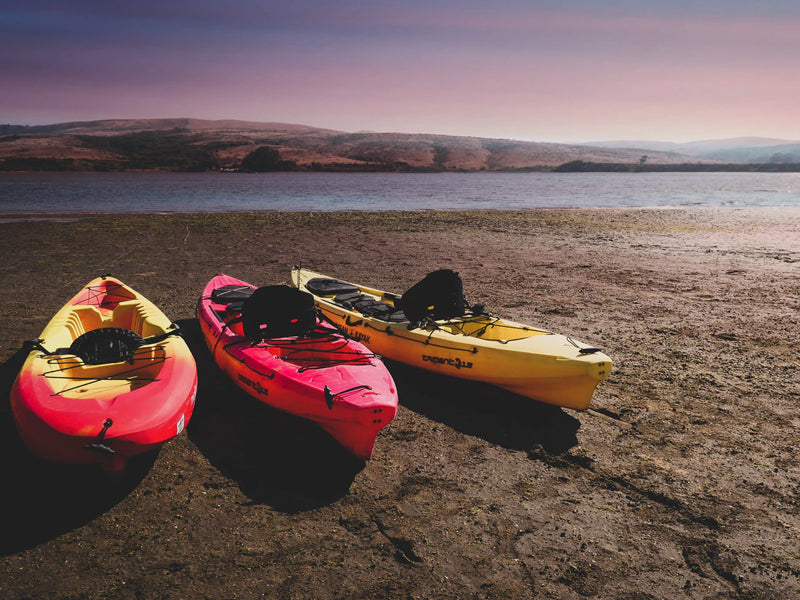 Stories about recreational kayakers caught in serious danger are not uncommon in the news. And while high seas and bad weather are always a threat, paddling mishaps can happen even in mild weather conditions.
Happily, with some solid advance planning, most can be avoided.
So, here are the Seven BEST Kayaking Safety Rules to keep in mind before you grab your paddle and hit the water for a seasonal, recreational day trip:
1. Prepare for the Weather: The night before, check your local weather report. Will air and water temperatures be comfortable? What about wind forecasts? Speeds over 6 -7 miles per hour should make you think twice if you're new to paddling. Know the tide predictions if you're planning to paddle the ocean. Any rain or snow in the forecast might also be a concern. Is fog expected? If so, stay off the water.

2. Tell a Friend: File a "float plan" with someone. Include details about where you're going, contact information of all other people in your group, information about your kayak and when you plan to return. Doing this could make the difference between spending the night on the water and receiving help quickly, according to the U.S. Coast Guard.

3. Pack the Basics: Think "safety" when prepping your gear and dressing for the day. Remember a U.S. Coast Guard-approved life jacket; at least one floating device (for example, a cushion or ring buoy) that you can throw to someone in distress; a chart of the area you'll be paddling; first aid; a reliable GPS device; warmth; food, and staying dry. Leave your non-essential electronics on shore or else protect them in a sealed dry-bag. Having a handheld air horn onboard or loud whistle on a lanyard around your neck is also a good idea. Note, too, that each state has its own regulations regarding children's life jackets.

4. Know How to Manage Your Kayak: Sit up straight in your seat, use good paddling technique, and move with your boat, not against it. Watch for nasty rocks in shallow water. Beware of wind gusts and swelling waves. At the first sign of changing weather, come ashore and relax with memories of the fun you had that day.
5. Stick Together: Paddling in a group? It's a great way to maintain healthy social distance. Just remain within ear-shot of each other in case someone needs a hand for any reason.

6. Stay Focused and Alert: Having a clear head and a focused mind is super important. Therefore, save the partying for when you're back on shore. Never drink alcohol or ingest any mind-altering substance while kayaking. Even on a lake, expect the weather to change, be ready for anything out there, and pace yourself.

7. Paddles Matter: Use the correct size paddle for your height and weight. This will make a huge difference in your physical comfort as you move through the water. You will not regret purchasing the best quality paddle that you can afford. Shop carefully among the many choices.

Naturally, there is always more to learn about kayaking. These basics will get you started safely, though. The rest is up to you. Enjoy!
Spread The Word & Pin It 😊
Disclosure: BEST Marine and Outdoors is a participant in the Amazon Services LLC Associates Program, an affiliate advertising program designed to provide a means for sites to earn advertising fees by advertising and linking to Amazon.com. This means if you click on the links above and purchase an item, we will receive an affiliate commission at no extra cost to you.
1 Response
Leave a comment
Comments will be approved before showing up.